Hacks to simplify the holidays! There is always so much chaos during the holidays with decorating and entertaining and house guests coming and going.  These twelve hacks make so much sense that it is hard to believe you didn't think of them first!  Be sure to let me know if any of these work for you!
Attach roof lights with binder clips
Plastic light hangers tend to bend and break easily. Ditch the over-promisers and use office binder clips to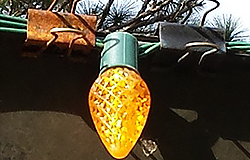 easily – and evenly — attach holiday strands to your roof instead.
Dry boots with a DIY drip tray.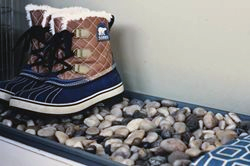 This may be one of my favorite hacks to simplify the holidays!  In fact, this is so great it is useful through the whole winter! Wet shoes can warp floors, track grime through the house, and cause slips and falls – especially when you've got a lot of guests. The solution? Fill a simple tray with river rocks (find them at garden centers or the dollar store). The moisture will drip right through.
Save Money with Creative Storage
Opening last year's organizers to find broken ornaments and tangled lights is a real bummer. Take a cue from the experts and skip the expensive organizers. Instead, store ornaments in egg cartons and wrap Christmas lights around clothes hangers. This way, you'll start every season on a good note. And you'll save money too!
Prolong the life of your tree with Aspirin.
Getting a real tree? Some say that adding some crushed Aspirin to its water can prolong its life and keep
its needles intact. With or without Aspirin, be sure to give your tree at least one quart of water a day to keep it green. And if you have small kids or pets, be sure to place tree-preserving mixtures out of their reach.
Use a stool to create the ultimate wrapping station
Use an old stool to create the ultimate gift wrapping station, complete with pockets (or hooks) for scissors, tape and trimmings. Then, add wheels or glue it to a skateboard to make it mobile. Voila! Wrapping presents just got a whole lot easier.
Give glitter the heave-ho with a lint roller.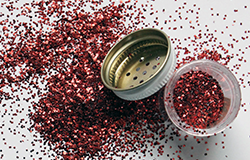 Glittery bows, crafts and holiday decorations have at long last met their match. A lint roller will remove glitter from everything from your floor to your clothes to your cat. Why didn't we think of this sooner?
Gain tire traction with kitty litter.
Live in a cold and snowy climate? Keep kitty litter handy in your garage and in your car. If your car gets stuck in the ice or snow, spread some litter under your tires for instant tire traction.
Is the old Christmas tree looking a little sparse? Wrap green garland or tinsel through any empty spaces for an easy and inexpensive fix.
Pick up broken glass with white bread
This may be my second favorite of these hacks to simplify the holidays! The inevitable broken glass presents an opportunity to wow your guests with some Christmas magic: Dampen a simple piece of white bread and use it to sponge up the shards. It will pick up even the tiniest pieces
Picking a real Christmas tree is fun, but getting the sap off your hands afterwards is a different story. Fortunately, there's a quick and easy solution: Scrub your hands with abrasive toothpaste!
Ever place tinfoil on the bottom of your oven to make after-dinner clean up a breeze? You can do the same with your wood-burning fireplace. Just place a double layer across the bottom before you light a fire. Then, after everything's cooled the next day, simply fold the ashes into the foil and discard it.
Nothing brings the holidays to life like the smells of apple-cinnamon, orange spice and vanilla — and there's no easier way to fill your home with the scents of the season than a simmer pot on the stove. Just fill a saucepan; bring it to a boil; and add sliced apples, orange rinds, cinnamon sticks, and anything else you'd like to include. Then, reduce the heat and turn it down to simmer, adding more water as needed.
I hope you have a joyous December – and that at least one of these hacks to simplify the holidays will work for you!